Trello is so well known in the kanban-board project management space that it's almost become a generic noun. Like Kleenex or Google, explaining a Kanban board as a "Trello Board" is basic shorthand for productivity. Still, if you're looking for something more, it may be worth reviewing one of the Trello alternatives.
And with good reason. Trello is one of the easiest to use project board apps on the market. And, with deep integrations through zapier, the ability to email straight to a board, and a robust app ecosystem of power-ups, there's a ton Trello does well. (So much so that Atlassian ran out and bought them, even though they already had a competing product in Jira!)
But for everything Trello does well, it has a couple of places where it falls short. The main shortcoming is having a great place to view your assigned tasks across all of your boards. Trello just doesn't do this well. It's home page works more like a social feed than a place to get work done.
All your work in one place
Trello has recently announced a "team table" view, which may help with some of this. But, it sacrifices the board for a table, and seems more about understanding team performance (more like analytics) than letting an individual user or team reogranize their tasks in a single place.
By contrast, Dendri is task management and project management tool built around the idea that individuals think differently. So, in Dendri, a matter (project) board contains all of the tasks related to that project. Once a task is assigned to one or more users it is synced automatically to their dashboard and is sent to a permanent "inbox" column. What happens after that is totally up to the user. They can set up their columns however it makes sense, and can move that task through those statuses without impacting the status on the project.
This means that a project manager could have a list for blog posts that need to be written for all of their clients in a single place and sort them based on word length, or group them by topic to make writing easier.  all of these tasks can also be organized on the calendar view for context over time.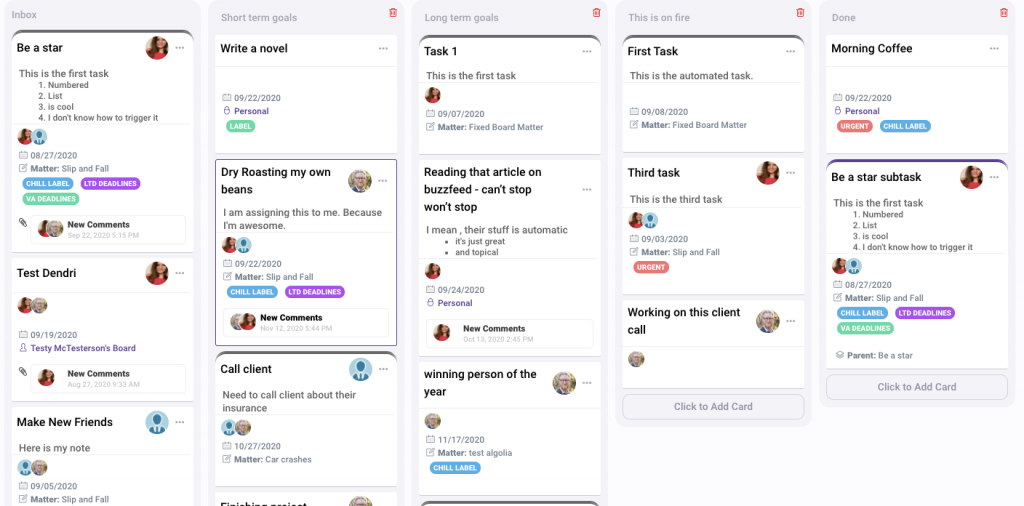 You can still focus on real time task management by updating the status on the project board in two ways. First, you can navigate straight to the project from the card on your dashboard. Second, by opening the task you can change the status to any available column on the project board (you can also manually change the status on your own dashboard).  This home-base approach makes Dendri one of the more robust Trello alternatives.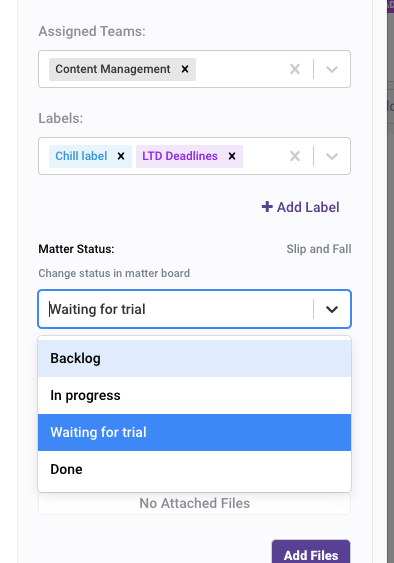 By contrast, Trello is focused on working inside the project, and that means teams have to bounce around to their boards frequently to get updates and work on client matters.  It's not intended as a complete project management software.
True Project Management
It's easier to think of Trello as a task management tool than an app with comprehensive management features. In Trello, the board is the basic unit of currency. Everything you need to do goes on the board.  Other Trello alternatives are also focused on the board, and don't hold themselves out as full project management tools.
But, as a project manager working on a client's project in real time, sometimes there is information you need that is not a task. Dendri addresses this by giving you vital information above the board, including contact info for your client, customizable statuses that are relevant project-wide, related contacts (like vendors or other key points of contact), your key deadline, which is linked to our calendar, and a free-form notes area that all team-members can see and add to any time they view the project.  On your dashboard you can also maintain your task list to set broad goals and track your progress. 
That's only the top. Below the kanban boards is a history view (think of it like a timeline view for all of your work and information) where you can add notes, view your tasks as a list in date order (or any other sorting/filtering you need), store all of your documents and assets and track any calendar entries related to the project. With the addition of the history view (which can be sorted, filtered and exported to csv for further shenanigans !) you have a full overview of everything you need to know and everything you need to do in one piece of project management software.  Dendri also gives you a powerful calendar view with google sync for your tasks and events.  
This isn't a knock on Trello, it's just not designed to let you manage your entire project from a single screen. Dendri was built from day one to do this, making it a strong if not direct Trello alternative.
If you're looking for a fast way to collaborate with a team, and want to put up basic Kanban boards for free that is robust, quick, and easy to use, Trello is a great choice.  Trying Dendri or another of the Trello alternatives may be better if you need more robust project management.
If you're a project manager looking to manage multiple projects and have a single place where you can organize all of your work, and want to give your team the same flexibility, no matter how you work, Dendri is probably worth checking out as a team collaboration tool or a simple kanban tool.